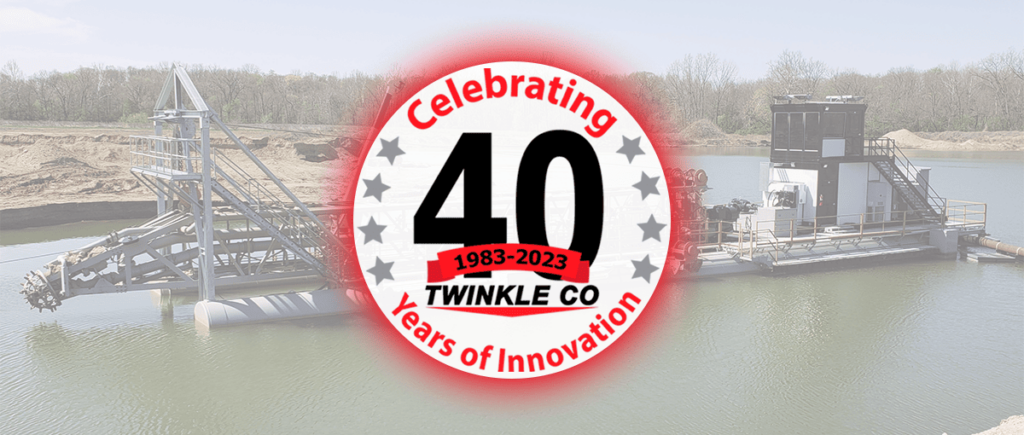 We make mining machines that float
For 40 years, Twinkle Co has specialized in sand and gravel dredges and dredging equipment for sand and gravel dredge mining. This single focus and a rich history of providing unique products and solutions has established us as the innovative leader in the industry. Our dredge products, from complete dredges to the most basic dredging equipment, are guided by our mission statement:
Our Mission: Provide dredges and dredging equipment to accomplish productive and efficient dredge operation by moving a high-density mixture through the discharge pipe at the target velocity without interruption.
If you are looking for a sand & gravel dredge, we have what you need. Our dredges, with diesel or electric power, with hullpump or ladderpump, reflect our design philosophy of rugged simplicity. Twinkle Co dredges are built for one purpose – efficient sand & gravel production. We have solutions for the unique challenges of sand & gravel dredging.
If you have a dredge, we have something you need to make it better. From basic gauges to a CONVAC system, WARTHOG rotary cutter basket to a Linear Cutter, winches to new flotation, our dredging equipment can be added to your dredge to improve performance and reduce the cost of production.
Successful dredging starts at the suction inlet of the dredge, so it is critical that the dredge suction inlet has the proper cutter for the deposit. To meet this critical need we have developed different types of cutters for our dredges, the rotary cutter and the Linear Cutter. Our experience with both types of cutter technology allows us to make the proper recommendation for your dredging application.
Automation can make a significant increase in dredge performance. Our Linear Cutter Automation Package (LCAP) Velocity Control (VEECON) and HEADHAWK head monitoring are standard features on our new dredging equipment and can be retro-fitted onto existing dredges and booster units.
We are continuing to develop new products and blend new technology into our existing products. Our latest is the PELICAN deep mining dredge with a maximum mining depth of 200 feet. We have also developed the MSB linear cutter.